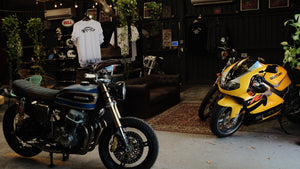 Houston's First Moto Cafe & Custom Shop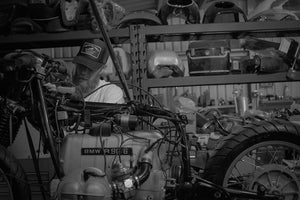 Wolfsmiths Heights lives and breathes internal combustion. Wether it's purchasing your next vintage motorcycle, commission your own custom build, restoring your family classic or just here for the stories we would love to meet you.
Previous Projects
Wolfsmiths
Est. 2020
Where counter-consumer moto & car culture lives.
Built around the idea of reviving old machines to run with the best of them - Wolfsmiths Heights seeks to facilitate the convergence of comrades who share this idea. We have created a gathering place for those who value craftsmanship, purposefully made goods, rides through roads less taken, good coffee, cant forget the tacos, and the fine details of these machines we choose to make new stories with.
What is Wolfsmiths Heights? It is a Dealership & Coffee Shop specialized in selling resto-mods, Espressos, lifestyle goods, and good times all under one roof in Houston Heights.
Services
Motorcycle Storage
Need a place to store your Motorcycle? "Wolfsmiths Heights" is now offering motorcycle Storage
Click For Info
Official Wolfsmiths | MERCH
Wolfsmiths Coffee
Houston's original restomod mail truck serving up Espressos with a San Remo f18. Conveniently located inside the loop in the Heights at 636 W 26th St. 
Coffee Hours | Tue-Sun 9am-4pm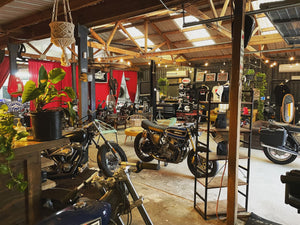 Function Meets Form
Just like our San Remo F18 Espresso Machine, the team is made up of wolves using old and new techniques to create one-off machines that are both gracefully designed and built with high performance in mind.
Explore